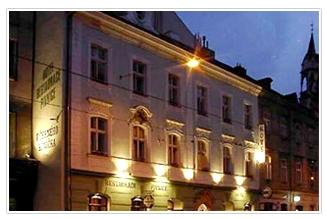 The Colloseum hotel is the ideal place for those who want to spend a holiday in the enchanting Prague.

The hotel lies in a strategic situation, it is located in the historical city centre and close to the most important tourist attractions like: the National Theatre, the Charles Bridge, Wenceslas Square and the popular Caffe Slavia, a perfect place to have a break and at the same time to enjoy the splendid view of the Castle of the city.

Our hotel is erected in an historical building of around 1386.
This edifice is mentioned for the first time in the book of judgement on page 143. In the past the hotel was called Black Pony and its first owners were Master John, in 1395 Wenceslai Potmyelit, then in 1399 Magister Petrus Latomus (mason) and in 1403 Jakobus Rotier.

Today the hotel has a baroque shape since the reconstruction of the beginning of 18th century. Other important reconstructions of the hotel were completed in 1848 by the builder J. Zelenka in the latest classical style and also in 1920 by the builder Fleisik, who changed the design of the hotel.

We guarantee you cosy and pretty accommodations in one of our 21 rooms, all provided with WC and Shower, TV with satellite channels and telephone. Furthermore, we offer to our guests further services, including: reception service desk 24 hours a day, which offers to our guests exchange office, sightseeing tours, guided trips, airport transfers, prize guaranteed cabs and laundry.